The canistel - Pouteria campechiana called มอนไข่ (mon khai, moon egg [1]) Is a tree whose height does not generally exceed eight meters, but it can, in favorable situations, reach a height of thirty meters and its trunk a diameter of one meter. Its bark is brown furrowed with an abundant amount of white and gummy latex [2].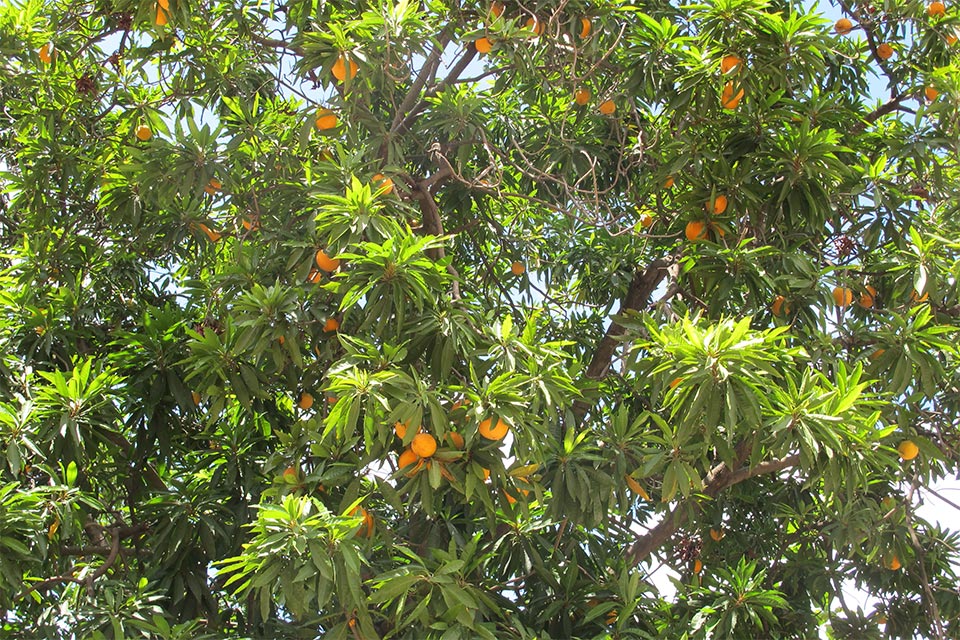 This plant and its fruit bear a large number of names in Thailand as ผล ไม้ เนื้อ สี ทอง (may be Mai nuea si thong, golden-fleshed fruit).
At Ratchaburi - Kanchanaburi, ลูก ท้อ (luk thao) word which usually means fishing (Prunus persica);
To Prachinburi, ท้อ เขมร (tho khamen, sad? Khmer);
Phetchabun, ทิ ส ซา ฟิลิปปินส์ (his Filipino thit);
[3]
Viru style canistel-shaped antique bottle - Peru - 250 years AD old
Origin
The canistel is said to have originated in Belize, Guatemala, Salvador and southern Mexico.
It is found in plantations in many countries of Latin America and West Indies. It is believed to be one of the first fruit species cultivated by the Incas as evidenced by pottery from the Viru culture. [4].
Canistel (Pouteria campechiana) - Leaves
Its leaves are grouped in the form of bells. They are quite long and narrow of a raw green.
Canistel (Pouteria campechiana) - Flowers
Its flowers are greenish in the shape of an elongated bell. They give birth to fruits of very varied forms.


The fruit is harvested when its skin turns yellow before it cracks.
The pulp is reminiscent of egg yolks because of its color and mealy dry texture.
Its sweet, slightly musky flavor can evoke kaki [5]. The fruit is eaten raw is used for jam, marmalade, ice cream ...
In Florida, it is eaten salty and peppered, certainly with ketchup and mayonnaise;).
In some Latin American and Caribbean countries it is seasoned with lemon or lime juice.
In Thailand, fresh fruits eaten raw, can also be used to make desserts such as cakes, custard, jam, jelly, pancakes or baked.
Zendy Flavor -Canistel and Passion Fruit - Zendy Marsam - Dubay
Composition
The canistel has a good content of minerals and vitamins.

It is rich in niacin [Niacin (nicotinic acid) is a component of the vitamin B3 with its amide, nicotinamide, (niacinamide). Vitamin B3 is sometimes called vitamin PP for pellagra preventive. The pellagra is due to a deficiency in this vitamin.]] And carotene which gives it its color with a good amount of vitamin C.

In Cuba, a decoction of canistel bark is used for rashes; nuclei for ulcers; fruits to cure anemia [6].

In Mexico, an astringent decoction of bark is used for fevers, as a remedy for coronary heart disease, liver disorders, epilepsy, skin diseases and ulcers [7]
**** Names

Common names: canistel, lucuma., Apple logfish.

In Reunion: canistel, yellow sapote, egg yolk.

English: egg fruit tree, canistel, yellow zapote, yiessas

Czech: sapota žlutá.

German: Gelbe Sapote.

Japanese: kanisuteru.

Spanish: atzapotl (fruit), atzapolquahuitl (tree), poo de niño, cakixo, canistel, canizte, costiczapotl, cucumu, custiczapotl, fruta de huevo, hantzé, huevo vegetal, huicon, huicumo, kanis, kanist, kanixte, kanizte, kantez, limoncillo, mamey cerera, mamey cerilla, mamee ciruela, mamey de campechi, mamey de cartagena, mammee sapota, palo huicon, sapote amarillo, siguapa, zapote amarilla, zapote amarillo, zapote de niño, zapote borracho, zapote mantis, zubul; guaume, guicume, zapotillo, zapotillo amarillo, zapotillo de montana, zapote de niño.

Thai: lamut (like sapodilla), lamut khai mon (มอนไข่), lamut kha men.

Vietnamese: trái trứng gà, cay trứng gà
Scientific names
Poutaria campechiana

Lucuma campechiana Kunth.

Lucuma nervosa A. DC.

Richardella campechiana (Kunth).
Classification
Reign Plantae

Tracheobionta Sub-Kingdom

Magnoliophyta Division

Magnoliopsida class

Subclass Dilleniidae

Order Ebenales

Family: Sapotaceae - Sapotaceae.

Genre: Pouteria
Origin: Belize, southern Mexico and Central America.
---